Of all the major cities in Australia – Perth is the sunniest, with an average of 144 sunny days per year, and around 3,200 hours of bright sunshine beating down. Couple this with the cooling sea breeze affectionately known as the "Fremantle Doctor", whose salty air bring deterioration and rust… and our fences don't stand a chance!
Perth's unrelenting sunshine can crack, dry and fade paint on fences, requiring regular attention, as well as warp wooden beams, compromising the structure and appearance of a fence. On top of this, the salty breeze we bless for cooling us down on a sunny afternoon is actually tremendously accelerating corrosion, carrying lots of dissociated ions, which enable fast oxidation of iron.
Luckily for people in the Perth area, there is an alternative material for modern fencing solutions which won't dry out, crack, fade or warp in the sunshine… or rust in the salty breeze… and that is Aluminium.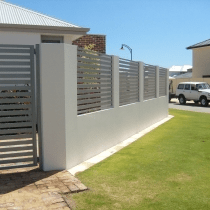 Aluminium has many benefits as a fencing material and is a designer choice – due to its ability to be cut to almost any shape, size or style… and an installer's choice – being light and durable.
It is of course also an owner's choice… offering longevity with rust and weather resistance, as well as eliminating termite and rot issues associated with wood.
"But what about the romance of a wooden picket fence?" – we're often asked… which is why Feature Fencing has designed the perfect alternative to your traditional picket fence – Aluminium Picket Fencing.
Aluminium picket fencing looks just like their traditional wooden counterparts, but will last indefinitely, epitomising traditional style, but with timeless appeal.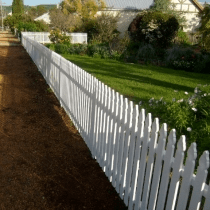 You can choose from Feature Fencing's enormous palette of powder coating colours, which resist the deterioration of regular paint.
For further information or enquiries about a fencing solution that ensures survival in Perth's challenging climate… contact the professionals at Feature Fencing today.