With the warmer weather finally making an appearance, it's time to spare a thought to the safety of your pool fencing… before you have visitors over for a swim this summer holidays!
Despite specific laws in WA that mandate the installation of a safety barrier to enclose private swimming and spa pools, failure to meet these standards results in an alarming amount of pool safety incidents each year…
"Drowning is the most common cause of preventable death of children aged 0–5 years. Over the past five years, 16 toddlers have drowned in Western Australia. For every drowning death, it is estimated that 10 children are admitted to hospital following a near-drowning incident (160 children over the past five years).
In WA, domestic swimming pools are the most common site in which drowning for children aged 0–5 years occurs, with 94 per cent of drowning incidents at locations in and around the home. Of that 94 per cent, 31 per cent occurred at a relative or neighbour's home."
www.commerce.wa.gov.au/publications/rules-pools-and-spas
Did you know that your pool fencing should be inspected periodically, at least every 4 years, to ensure it is safe within regulations?
At Feature Fencing, we specialise in a range of stylish pool fencing solutions that are compliant with all safety rules and regulations. Our range includes versatile and durable aluminium designs, as well as the popular modern range of glass pool fencing solutions.
Minimally framed glass fencing solutions are particularly popular around pools due to their transparent nature… which doesn't impede vision of the pool, and fits in with a contemporary design aesthetic.
Perth's Pool Fencing Professionals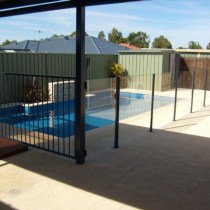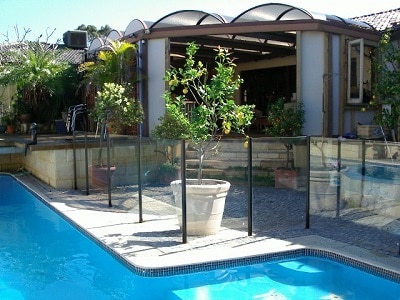 Whether you're installing a new fence around a pool or spa, adding a compliant addition to your pool fence, or require a pool fencing renovation/maintenance to bring your backyard up to scratch… Feature Fencing can help! We have decades of experience delivering successful pool fencing solutions, and are well known and trusted by Perth's regulatory inspectorate.
For further information or enquiries in to Perth Pool Fencing, contact us today.
Check out the WA Government's latest Rules For Pools & Spa's information HERE.