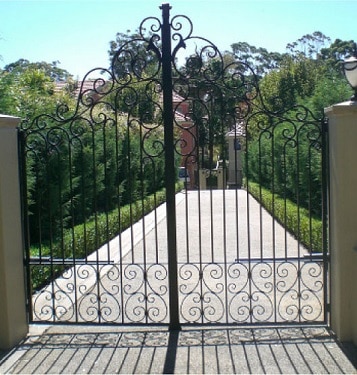 There's nothing worse than having family and friends come visit during the holidays, only to have them point out all of your unfinished projects. Not only are half-finished DIY tasks unsightly, but they can also be a hindrance to both your productivity and the safety of your family.
A half-built fence, broken gate lock or a garage door that stopped working months ago can expose your property to theft, make it easier for your pets to escape, and make going for an unsupervised adventure much easier for your kids! Child safety is definitely a concern if the half-finished fence in question is a pool or spa fence.
So, to improve the aesthetic appeal of your outdoor area, while also ensuring you're protected from intruders, it could be time to revisit your incomplete projects.
HOW FEATURE FENCING CAN HELP
Feature Fencing Perth are the experts in all things gates, fences and garage doors. Whether you're replacing your creaky old gate or installing a brand new wrought iron fence, we can increase the functionality of your space, while also adding a touch of flair and sophistication.
Gates
If your side gate has been deteriorating over the last few years, and the slap of paint you threw on last year hasn't quite fixed the problem, it could be time to invest in a new one.
Finding time to fix a gate can be difficult, especially if you're at work all week and just want to relax on the weekend, so for all of your gate needs in Perth, we can help! From pedestrian gates to automatic gates that are available in a range of materials, you're bound to find a design that's perfect for you!
Fencing
A fence isn't just a barrier, it's also an effective way to create privacy, block out noise pollution, and keep your kids and pets in, and unwanted visitors out. So, as you can imagine, a half-built or rundown fence is less than ideal.
You may have just renovated your home and want a homely picket fence to complement your home's new style, or you may want to replace your standard timber fence with a stylish, more open wrought iron fence – whatever your goal, we've got the answer!
Garage Doors
Not every house has a traditional brick and mortar garage. It's actually very common for properties to have a carport instead of an enclosed garage. If this is the case, investing in a carport door could be a sound investment.
If you whipped up a temporary carport door with the intention of getting a more permanent solution installed further down the track, but just never found the time, let us do the work for you!
Feature Fencing supplies a range of top-quality gates, fences and garage doors to some of Perth's most discerning clientele. With designs that are suitable for any budget, we make use of aluminium, wrought iron and timber-look materials. So, what are you waiting for? If you want to complete your unfinished backyard project, contact us today – we're here to help!