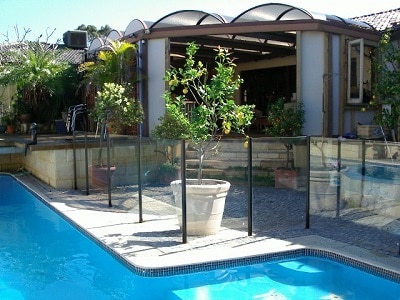 Now that summer is coming to an end and the cold, dreary weather is making a comeback; it's time to start thinking about preparing your backyard for winter.
When we shut the backdoor and go into hibernation for the duration of winter it's easy to take the 'out of sight, out of mind' approach when it comes to your pool fence. But, did you know that 15% of all drownings in children under the age of five happen in backyard swimming pools during the winter months?
This figure highlights the importance of having a functioning pool fence and gate, even when it's cold outside.
Installing / Repairing Your Pool Fence in Time for Winter
15.4% of Western Australian households have a backyard swimming pool, but even the nicest pool with the best quality fence is useless if the gate is propped open, or if the latch doesn't work.
Maintaining your pool fence is essential at all times throughout the year, but particularly so when it's cold outside and your attention isn't focused on that potentially hazardous part of your yard.
While the cold pool water may not seem particularly appealing to you when it's cloudy and raining, if the dog or cat is wandering around out there, toys have been left lying around, or a ball has gone over the fence, your little one may not be as deterred as you are.
Regardless of the weather, the pool will always be a source of adventure and fun for inquisitive kids, so before you turn your back on your pool for the next couple of months, consider either installing a new fence, renovating your existing one, and checking all of the latches on your gates are in working order.
Is Your Fence Safe and Secure?
If your pool fence has a self-closing, self-latching, child-resistant gate, you're on the right track! However, if you don't, or if the latch on your gate is a bit dodgy, it could be time to look at updating your gate mechanism.
The same goes for your fence. If your fence meets Australian standards and is in good knick, come the end of summer your main job will be to make sure the gate is shut properly, and there's nothing propped alongside the fence that your kids could use to climb over the fence. If your gate doesn't meet safety regulations, you can talk to the team at Feature Fencing about updating your pool barrier today!
If you're unsure what the pool fencing requirements are in WA, take a look at this handy pdf from the Government of Western Australia.
Ensuring your pool fence is in good shape all year-round is essential. Even if you're not using your pool, looking after your pool fence in the colder months will not only keep your children safe, it will also ensure your pool fence stands the test of time and is ready to use again come summer.