Both carports and garages are an excellent way to get your car off the street and increase the privacy levels in your home. However, not all properties have the space, or the required council approval to have a garage, which makes a carport a viable alternative to a traditional garage.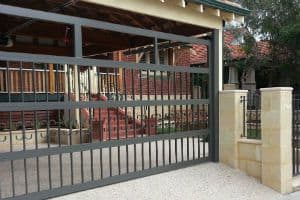 Here, we look at the benefits of installing driveway gates in Perth and how a carport can increase your home's appeal and value.
Your Carport can be Designed to Blend With Your Original Home and Fencing
When choosing your carport's new gate, you can easily make it blend in with your existing fencing, ensuring it complements the overall aesthetic of your property.
You can view a selection of our available garage gates here, which will give you an idea of the different design styles that are available to you.
A Carport Improves Your Home's Curb Appeal
Cars strewn across the driveway, the curb and even the front lawn looks messy, which can damage a visitor's first impression of your home, especially if you're in the process of selling.
When your car, motorbike or boat are all neatly stored in a carport, potential buyers will be able to get a better idea of the size and style of your front yard. It will also ensure your grass and garden doesn't get ruined by parked cars.
Plus, a carefully chosen sliding gate that matches your fencing will add to the visual appeal of your home, making it seem like the property is 100% cohesive and doesn't require any extra work.
Carports Can Reduce the Cost of Your Car Insurance
You know that question on car insurance applications where they ask where a car will be stored overnight? Insurance companies are judging how likely it is (or how easy it would be) for your car to get stolen, so they can calculate the risks and costs associated with insuring your vehicle. They're not just looking at your street address, they're also looking at whether your car is securely stored in a garage or carport or if it's just parked on the street.
A vehicle stored in a secure parking area that's enclosed with a lockable carport gate will be considered a lower risk than one that's left on the side of the street or even just parked up a driveway. So, having a carport can actually reduce the cost of your insurance premiums and even your excesses.
Carports Provide Extra Protection For Your Vehicles
Second to the house itself, a carport is home to one of your most valuable assets – your car, boat, motorbike or caravan!
When stored safely inside a carport with a functioning gate making access from the street difficult, a carport offers protection from things like the sun, falling branches, hailstones and even bird poo. All of which can damage the surface of your prized vehicle.
Carports also add an extra level of security to your home, by making it harder to access your property and getting your valuable assets off the street. This will not only give you peace of mind, it will also make your home more attractive to potential buyers when the time comes to sell.
How Can Feature Fencing Help?
Whether you're after aluminium gates, wrought iron gates or sliding gates Perth, the team at Feature Fencing can help! Our fencing experts specialise in the construction of stylish and durable fencing and gates that will be functional, without compromising on style.