Driveway gate installation is a popular project undertaken for new and modern homes. It creates an eye-catching point of entry and also adds value to your property. Custom-made gates can fulfill individual client's taste and design, and are becoming highly sought after these days. Wrought iron driveway gates are one of the most preferred types of driveway gates since they are reliable, durable and more attractive to look at than plain gates.
One of the most important things you have to remember for driveway gates is to ensure a proper driveway gate installation which can offer you security and peace of mind. This also means value for your money. However, one has to consider some factors that may determine how a driveway gate installation will be carried out. These include: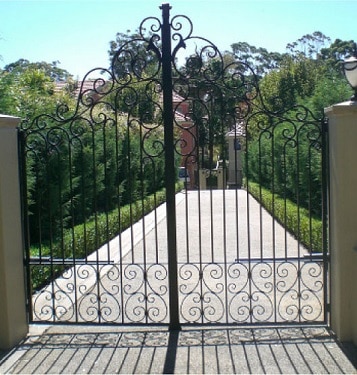 The topography
A sloppy ground requires proper planning prior to the installation than a level ground. In some instances, a sloppy ground needs to be leveled to attain a good finish and proper functionality. The slope gradient can affect the direction from which a gate opens and this will determine whether a sliding gate or a swing gate will be installed.
Climate changes
Climatic changes can affect the choice of material to be used in your area. Changes in temperature can affect the effectiveness of services offered by a gate. For example, during very cold temperatures, posts that go below the frost level can shift and cause instability to the gate. This may cause the gate to go out of alignment and compromise the security of your home. However, professional gate installers put this factor in mind as they will advise you on the material to choose and they have the expertise to ensure that your driveway gate installation is done properly. This ensures longevity and thus delivers reduced maintenance costs.
Type of material used
The type of material used on the gate mostly is determined by the landscape design around your home. Choosing a qualified and experienced driveway gate installation company will ensure that your gate complements your landscape and that they blend in together to create an amazing and creative finish. It is wise to use material that is durable and that can withstand harsh weather conditions and will not wear out fast.
Automation
You may not choose to have an automated driveway gate but it is important to ensure that the current installation makes it easy to upgrade it in the future in case you change your mind. This will save you money when time comes to install an automated gate. For automated driveway gates, it is advised to add an emergency access lock closing system.
Building codes and regulation
Every community has a building code administration and you need to know applicable regulations. These regulations address the location where the gate has to be installed, materials that one is allowed to choose from and maximum height to be attained. If you live in a community that is restricted by these regulations, using a qualified company will save you time and hassle since they already know what needs to be done.