Fencing is a common necessity for residential properties, but it also serves an important role in commercial properties. Commercial fencing provides security and privacy for your business location, as well as safety and security for those who are inside. Feature Fencing can provide fences in a huge range of shapes and sizes, with different materials that can be utilised to suit any commercial property type or application. Commercial fences often need to be more robust than residential ones because they experience heavy foot traffic and need to be able to withstand rougher weather conditions. In this article, we will discuss the best fencing options for commercial properties and the benefits they provide.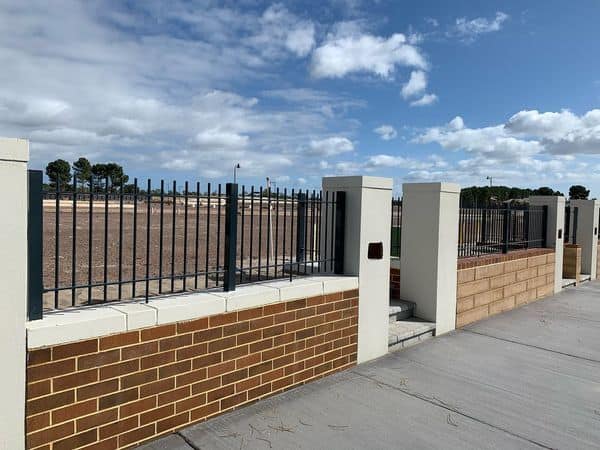 Commercial Property Needs:
Commercial fencing often needs to be taller than residential fences, including a taller gate. Shorter fences are not as competent at handling heavy winds and weather conditions. Steel or wrought iron are common material choices for commercial property's fences as they are stronger meaning they can withstand rougher weather conditions. Commercial property owners should also consider where their fence will sit on their land; if it sits close to other buildings, businesses or residences then windy areas of your site might require more robust fencing that won't blow over easily.
Commercial fencing comes in all shapes and sizes – so it's important to find the right style for your location and preferred style. Common commercial fence styles we offer at Feature Fencing include garrison security, tubular steel, aluminium, slatted and wrought iron to name a few.
Different Fencing Options: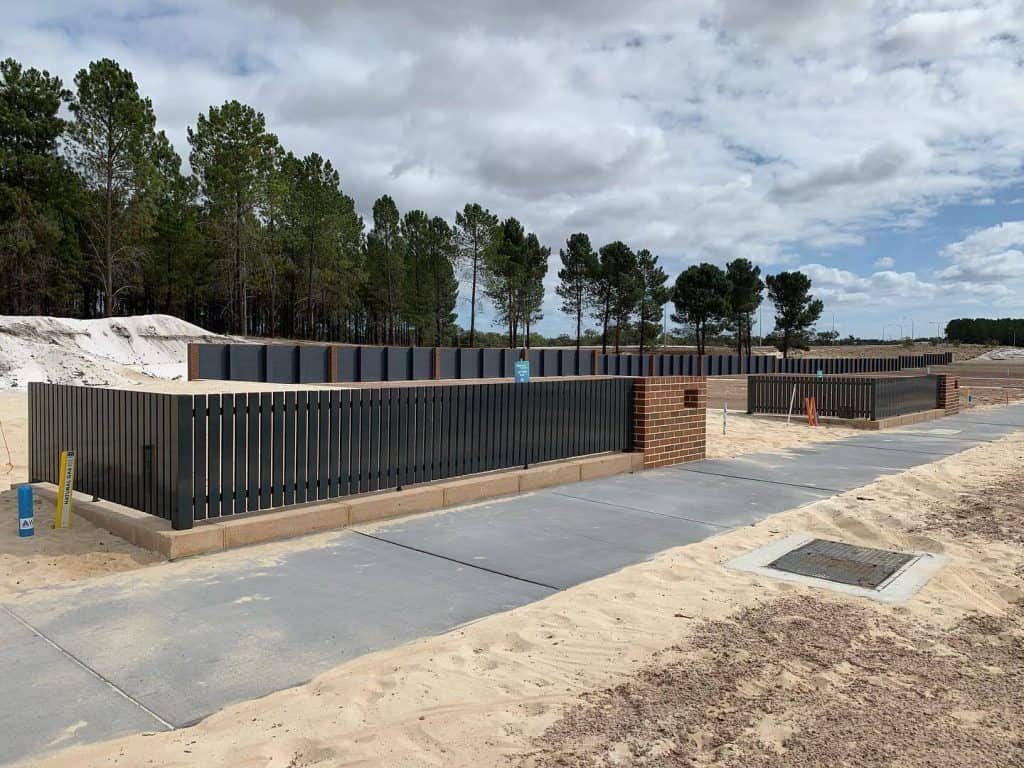 Wrought Iron Fencing
There are many advantages to wrought iron that you will not find in other metal materials, especially when it comes to style. Wrought iron offers a timeless look that can enhance the beauty of almost any property. Wrought iron is also a durable material. Fencing made of wrought iron can endure the elements while maintaining its appearance for years to come. Besides being durable, wrought iron requires very little maintenance. 
Infill Panel Fencing
Infill panel fencing is a stylish and affordable option for commercial properties. Create a striking look for your business without hiding any of the brandings you apply to the building. They come in a range of design options like perforated, louvre, slatted or tubular panels depending on the look you are after. Get them in a timber look for a durable anti-rust fence that still feels like wood or opt for a powder-coated, sleek look. Stand up to the weather and show off your brand with infill panel fencing. 
Slat Fencing
Feature fencing offers Aluminium slats that are anti-rust and built to last in harsh weather. They don't restrict airflow to and within the property like standard tin or wooden fences can. They also give your business added privacy. Maybe you want your customers to have a safe and secure place to park or maybe you want to display products outdoors without fear of theft. Slat fencing allows you to create a stylish and appealing look around your property without compromising on airflow or privacy. 
Aluminium Picket Fencing
Picket fencing is another great option and by utilising aluminium pickets instead of wooden ones you can increase your fences longevity and decrease the amount of maintenance required. They look great and provide privacy without completely hiding your business from the street view. This style of fencing is also great for businesses with lots of foot traffic because people tend to make positive associations with picket fences (especially white ones) due to their popularity in film and tv. People tend to make connotations of financial stability and success. 
Hampton Style Fencing
Hampton fencing is a style of fencing taken from architectural trends commonly found in wealthy holiday homes and affluent suburbs. We do a range of colours but, similar to picket fencing, customers tend to make positive associations with properties that use this kind of fencing. The main selling point of Hampton fencing is its aluminium and rust-proof construction. Can be powder coated in various colours. They are low maintenance and reasonably priced not to mention being eco-friendly too. There is a huge range of options here at Feature Fencing for your commercial property. Depending on what you're looking for and the style of your brand we provide almost anything you could wish for. Contact us today to find the perfect commercial fencing solution for you!